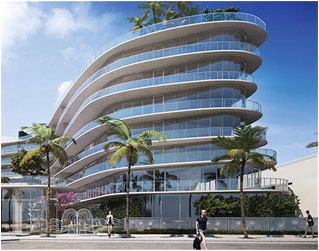 One Ocean South Beach is one of today's most amazing condominium development projects in South Florida. If you are looking for ultra-luxury condominium options in Miami, you should definitely keep your eyes peeled for this spectacular condominium development project that is currently being offered in its pre-construction stages.
Out of all the cities located within Miami, it is the city of Miami Beach that has been known to provide people with so many outstanding opportunities that are unlike any other. Property buyers who are looking for the most luxurious options within the city can be sure to find them within the remarkable neighborhood of South Beach where a superb selection of luxury condominiums can be found.
The One Ocean South Beach condominium development project team is headed by the Related Group of developers founded by Jorge Perez who has also brought in amazing condominiums such as Apogee, Murano at Portofino, Murano Grande, and W South Beach.
Given the group's impressive background, people can easily look forward to one of the most innovative concepts brought to life with the help of architects Sieger Suarez and Enrique Norten, interior designer Yabu Pushelberg, landscape artist Enzo Enea, and visual artists Jose Bedia, Eugenio and Lautaro Cuttica, and Michell Oka Doner.
Call Selda at 305 6000958 For More Info – Digital Catalog of One Ocean South Condos
Download the PDF Brochure
Amenities
Stunning ocean views
24-hour on-site concierge service that can be tapped directly from an iPad, create customized dining, event and travel experiences
An outdoor clubhouse designed by interior design geniuses Yabu Pushelberg
An infinity edge pool deck designed by Swiss landscape architect Enzo Enea
Zen park and outdoor areas with ornamental featured by Cuban artist José Bedia
Curated contemporary art collection throughout common areas
A state-of-the-art fitness center
An access to a personal trainer and private yoga classes
An exclusive membership to a private beach club
Exterior
One Ocean South Beach is going to be built on a site located at 1 Ocean Drive in the neighborhood of South Beach. However, the two mid-rise towers that are going to be constructed on the site will not be sitting on the sand; it will soar above Ocean Drive  with its stunning terraces, patios, and floor plans which will offer property buyers an opportunity to choose among three-bedroom, four-bedroom, and five-bedroom units found within the South Tower while five-bedroom units will be offered exclusively in the North Tower. There will also be retail commercial spaces located along the street level of the condominium.
Residences
The condominium development project is going to bring about a total of 50 residences — 46 exclusive residences and 4 ocean villas — along with a floating resort that will be situated above Ocean Drive.
Floor Plans
Floor plans offered at One Ocean South Beach will range from around 2,000 square feet to over 3,500 square feet with flow-through floor plans and private elevators.
The price per square foot has not been revealed but estimates show that they could cost anywhere from $1,000 per square foot to $2,000 per square foot at the most.
Contact
Property buyers who are interested in making reservations as early as now will be offered a 10 percent refundable deposit. Reservations may also be cancelled. Call our team of professional real estate agents for more information regarding reservations as well as payment structures.
Phone: 305 6000958